[NOTE: Migrations created by users of HistoryGeo.com for Libraries will only be available for the rest of the day unless made permanent by a library's administrator]
There are two ways to enter migration data for display in the HistoryGeo Viewer. This article pertains to the literal drawing of migration paths into the Viewer itself. To see how you can enter textual migration data through the website, click here.
To get started, launch the HistoryGeo Viewer, and go to the Migrations tab:
You will see two list boxes: one labelled "Your Migrations," and the other "Migration Playlist"
The "Your Migrations" list box is just what it sounds like...a list of migrations that you have created, and can view.
To view migrations, click on items in the "Your Migrations" list with the left mouse button, and drag them over to the "Migration Playlist." Once you're happy with the playlist's contents, click the "Play Migrations" button to launch the Migration Player back in the Map Viewer tab. (for more about migration playback, click here)
To start drawing a new migration, click the "New Migration" button to the bottom left of the "Your Migrations" list box.
This will bring up a small pop-up window:
(Note: The "Share With" field is disabled for now, but, eventually, you will be able to share your migrations with other HistoryGeo users)
Once you have given your new migration a meaningful name and short description, click "OK" to start drawing. You will automatically be taken back to the Map Viewer tab where you will see the Continental U.S. Counties Map.
Two differences you may notice that tip you off that you are in Migration Drawing Mode are that there is a button the says "Complete Migration" near the bottom of the Viewer:
Click this button when you are done drawing your new migration. It will save, then play back your completed migration.
The other difference is that your mouse cursor has changed from the usual arrow to a small black dot:
Now, we're ready to start drawing Migration Points. Migration Points are like dots that connect a migration path, and each can contain quite a bit of information.
Zoom and pan to the location where you want your Migration Point, then double-click with the left mouse button on the spot you want it on. A red dot will appear on the spot you clicked, then a pop-up window will appear:
While only the Point Type and Description fields are required, let's go over what each of these fields is for:
Type
A Migration Point can be used to mark several kinds of occurrences, and a point's type is meant to quickly answer, if possible, "What is the significance of this point within the migration you're drawing?" The current options are: Birth, Death, Marriage, Residence, or Other.
Year(s)
Depending on the point's type, this could be the year that someone was born, died, or got married, but it could also be a range of years that someone lived in a particular spot.
State & County
Where has this point been placed? While it might seem redundant to enter this information given that you just clicked on a spot where this information would be visible on the map itself, you might wish to use our text-based migration editing tools within the site, later.
Description
Depending on the point's type, explain who was born, died, got married, or lived here. If the point's type is "Other," explain just what this point is here for.
Source(s)
How do you know what happened here? Were you told be a relative? Did you get the information from official documents or correspondence? This field is where you explain how you know what you know about a particular Migration Point.
Moving on from the individual fields, you'll notice two buttons at the bottom of the "Add Migration Point" pop-up window. The first one says "Continue Drawing," and it will close this window while staying in Migration Drawing Mode. Use this button if you know you have more Migration Points to draw. The other button says "Finish Migration," and it will save your Migration, then replay it exactly like the "Complete Migration" button mentioned above.
Keep drawing points until you reach the end of your Migration, then click either the "Complete Migration" button in the main Viewer window, or the "Finish Migration" button in the "Add Migration Point" window.
Once you're migration is saved, the Viewer will switch to Migration Playback Mode, and then show you your completed Migration: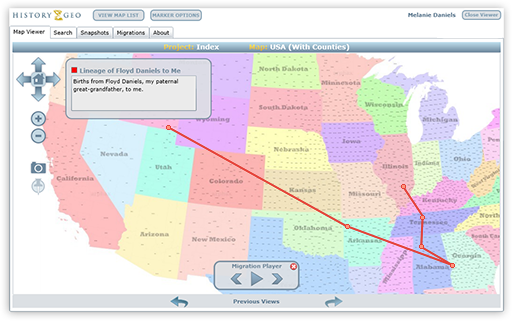 ---
Some Helpful Tips:
*If you happen to draw a point in the wrong place, you can always press the [Esc] key on your keyboard once the "Add Migration Point" pop-up window comes up. This will close the pop-up, and delete the point you just created.
*If you need to move or alter a point's information once you've already entered it, just click on the point to select it. Once selected, the point will have a light blue border around it. To move the point, just click and drag it to a new position. To edit a point's information, just click on it again, and the "Edit Migration Point" window will open (it's mostly the same as the "Add Migration Point" window). To deselect the point, single click anywhere on the map.